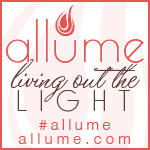 One of my favorite blogs is the new
Allume blog
. Allume is the name of a yearly blogging conference for Christian women, and they recently also began a blog for all of us! I have wanted to go to the conference, but it is just too difficult for me given my limitations. It is such a treat for me now to be able to share in the Allume community online, connect with other bloggers who love Jesus, and learn new blogging and writing tips right from home.
One of the monthly features on the Allume blog is the telling of
Her Story
. Each month
JessicaHeights
tells the story of one member of the Allume community, because everyone has a story worth telling. Last week Jessica shared my story. I was so blessed by the encouragement I received from friends and the Allume community when my story was published. Thank you, friends, for your kind words!