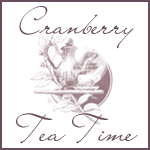 My friend,
Melanie
, has been busy working on a new blog design for me. Last spring, right before we moved, I won a
blog design giveaway
on Melanie's blog. I was thrilled to have won, but then with the difficulties of moving I wasn't able to correspond much with Melanie about the new design. Once I finally got settled in, we began the design project again. I love the finished product! She did a fabulous job, don't you think?
It was a delight to have Melanie help me with my blog. I had been wanting something new, but didn't quite know what I wanted or how to create it. After exchanging several emails with Melanie, this is what she created! The first time I saw her design I thought, "How is it that I didn't know what I wanted, but Melanie did?!" She was able to take all of my answers to her questions, my
Color Inspiration Pinterest
board, and my thoughts on fonts, and create a beautiful new look for Cranberry Tea Time.
If anyone is in need of a new blog design, check out Melanie's design blog:
Elegant Custom Blogs
. She does a beautiful job, and she is so easy to work with. She takes the time to figure out what you like so that your blog design will reflect your own personal taste.
Thank you, Melanie, for my new blog design! It was a pleasure working with you.